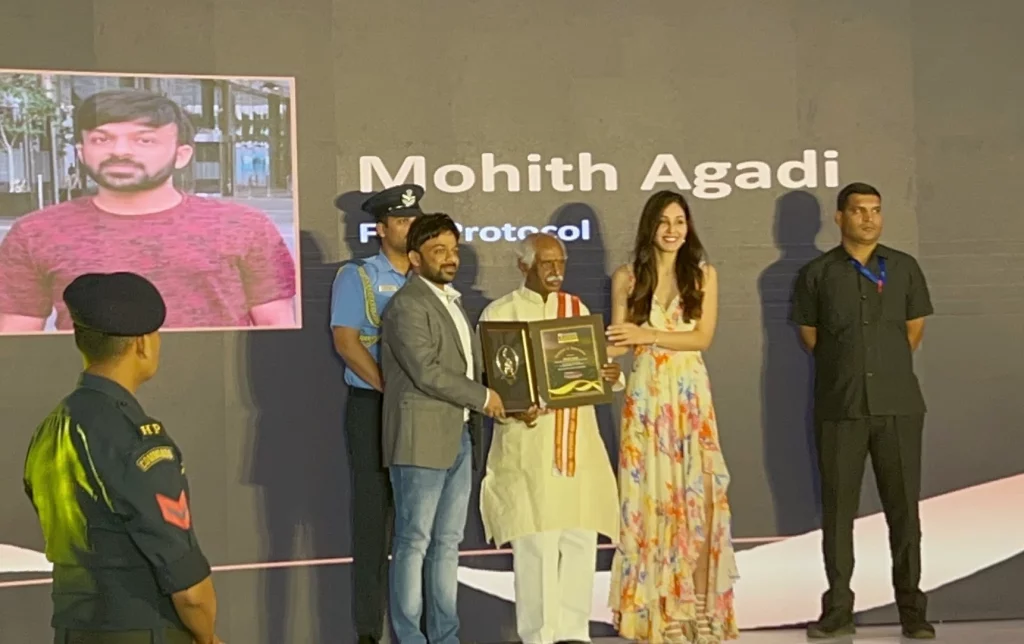 Bangalore, Karnataka – The prestigious Economic Times Inspiring Leaders 2023 – North, organized by The Times of India Group, has recognized Mohith Agadi, the founder of Fact Protocol, as the recipient of the esteemed Entrepreneur of the Year Award. Mohith Agadi, a digital strategist, author, and entrepreneur, was felicitated for his exceptional contributions to the fight against fake news, disinformation, and misinformation through his groundbreaking startup, Fact Protocol.
The felicitation ceremony took place at the grand ET Inspiring Leaders event held on 19th May 2023 at The Timber Trail, Parwanoo. The event witnessed a distinguished gathering of winners from various categories, including corporates, retail, fashion, education, health, art, literature, and humanitarian work. Bandaru Dattatreya, the honorable Governor of Haryana State, presented the award to Mohith Agadi in recognition of his remarkable achievements.
With an illustrious career spanning multiple industries, Mohith Agadi has established himself as a leading figure in digital strategy, entrepreneurship, and environmental conservation. Governments and organizations worldwide have acknowledged and cited his insightful writings on sustainable development and environmental conservation.
In pursuit of his goal of combatting fake news and misinformation, Mohith Agadi founded Fact Protocol. This innovative startup has developed a decentralized fact-checking system and a suite of powerful tools that employ cutting-edge technologies such as AI, Machine Learning, Natural Language Processing (NLP), and distributed ledger technology (blockchain) to detect and mitigate fake news and manipulated media.
The recognition bestowed upon Mohith Agadi by ET Inspiring Leaders is a testament to his unwavering dedication and tireless efforts to address one of the most pressing challenges of our time. Fake news has emerged as a significant problem, impacting societies globally, and Mohith's commitment to combatting this issue is commendable.
Furthermore, earlier this year, Fact Protocol garnered another recognition by securing a place in YourStory's Top 25 web3 innovations list. The achievement was announced at the prestigious TechSparks Conference, co-presented by Google Cloud, held in Mumbai.
On receiving the award, Mohith Agadi expressed his gratitude and extended his appreciation to his team, whose support and collaboration have been instrumental in Fact Protocol's take-off. He emphasized the importance of countering fake news and misinformation, underscoring how it affects not only individuals but also the overall fabric of society.
The Times Group's ET Inspiring Leaders initiative aims to provide a platform for luminaries like Mohith Agadi in their respective fields of work. By recognizing and honoring their achievements, this initiative seeks to inspire others and catalyze transformative change in the economy and society.
About ET Inspiring Leaders:
The Economic Times Inspiring Leaders is an initiative by The Times of India Group, India's largest media and publishing house. It aims to identify and celebrate exceptional leaders across various industries who have not only achieved remarkable business success but have also made significant social contributions. Through this platform, the initiative strives to inspire and motivate the next generation of leaders to make a positive impact on both the economy and society.
About Fact Protocol:
Fact Protocol is a groundbreaking startup founded by Mohith Agadi that specializes in the identification and mitigation of fake news and misinformation. Leveraging advanced technologies such as AI, Machine Learning, NLP, and blockchain, Fact Protocol offers a decentralized fact-checking system and a suite of powerful tools to detect and mitigate the spread of false information. With a vision to foster a more transparent and trustworthy digital environment, Fact Protocol is at the forefront of the fight against fake news.